Delhi Agra Jaipur Tour Explore the Golden Triangle
When you decide to explore beautiful sightseeing places in India, you should surely like to end up with a right tour option. There could be different types of travel packages available to determine, but you need to choose the most effective one. Are you confused? If yes, then you should go with golden triangle tour.It is a tour option that enables tourists to enjoy visiting top three tourist locations in India i.e. Delhi, Agra and yes, Jaipur.
Since these cities are known for having different types of mesmerizing historical monuments, structures and other tourist attractions, you will surely enjoy a great vacation. Lets find out how Delhi Agra Jaipur Tour can help you entering into a new world of touring possibilities.
Tourist Attractions in Delhi
If you are an international tourist or visitor, you are likely to land in Delhi, the capital city of India. It is certainly an outstanding option to go with when it comes to exploring the sightseeing places in India. There are various top-notch tourist attractions that can be visited throughout the years.
Some of the highly visited tourist attractions in Delhi are Red Fort, Jantar Mantar. Parliament house, Akshardham temple (the largest Hindu temple on the earth planet), Kutub Minar, and many more as the list is certainly endless. The best part of visiting Delhi is that you can easily find out good accommodation in the city. Whether it is about transportation or staying options, you will always find capital city a right choice to go with.
Jaipur Explore the Beauty of Pink City
If you want to witness the real Indian culture, heritage and historical importance, you should not forget adding Jaipur to your India tour list. If you decide to determine Delhi Agra Jaipur Tour, you can easily be able to witness the beauty of this most visited tourist destination in India.
If you want to enjoy visiting historical structures, palaces, and monuments, Jaipur should be on your prime list. There are lots of historical forts that can be visited. Apart from visiting historical places in Jaipur, you may also have an insight about the true Indian culture, tradition and values. So, considering Rajasthan tour can help you ending up with a great travelling experience.
Agra Explore the Inimitable Beauty of Taj Mahal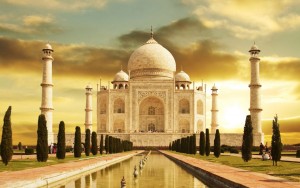 It is said that without visiting Taj Mahal, you cant be able to complete your incredible India tour. Therefore, it is imperative to have Agra in your tour list. Whether you are a domestic or an international tourist, you will surely like to see one of the Seven Wonders of the World.
Since it is a world heritage site, you can be able to witness the true beauty of the Taj. It is certainly a fine example of love. The marbled structured was constructed by the Mughal emperor Shah Jahan in the memory of his beloved wife Mumtaj Mahal. Taj Mahal derived its name from queen.
Conclusion
Whether you want to enjoy witnessing the modern lifestyle in Delhi or traditional life style in Rajasthan, you will surely love to explore incredible India. Thus, choosing Delhi Agra Jaipur Tour is a right decision to go with.