Pushkar Fair – World Famous Tourist Attraction of Rajasthan
Pushkar Fair
The Pushkar Camel Fair happens to be the most exclusive fair in Rajasthan. It takes place just before Kaartik Purnima (during November) every year. The venue of this fair is a sleepy little town Pushkar, 14 kms north of Ajmer, which comes alive during the last ten days of Kaartik lunar month ending on Kaartik Purnima. The focal point in Pushkar is the highly sacred Pushkar Lake, besides the 8th century Brahma Temple. As per legends, the Creator Brahma was looking around for a place to conduct an important Yagya, when he came to know about Pushkar, where the local citizens complained of being terrorized by a demon.
Enraged, the Creator killed the demon just by hitting the demon with the blue lotus flower he had in his hands at the moment. The demon was killed, but the flower petals scattered in three bunches on the earth, where three lakes sprang up. These lakes were later known as the Jyeshtha, Madhyam, and Kanishtha Pushkar lakes. It is believed that later all Gods of the Hindu Pantheon turned up at Brahma's Yagya, who were commemorated individually by dedication of a temple each in their name, besides the largest one for Brahma himself. Today, almost 400 temples still survive in this temple town, besides the main one for Brahma. Brahma had concluded his Yagya on Kaartik Purnima, thus lakhs of Hindu pilgrims take a holy dip in the Pushkar Lake on that day.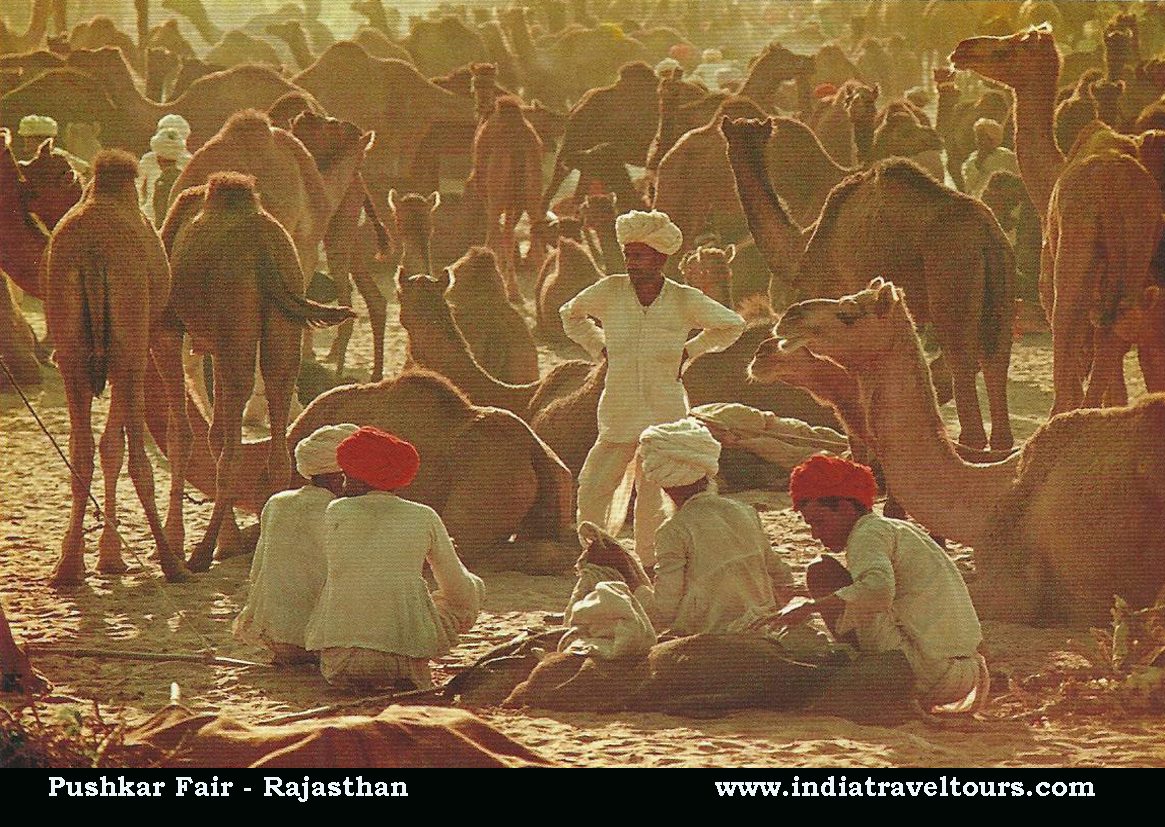 Somewhere during the course of the local holy history, this occasion gave rise to the colorful Camel fair of Pushkar. The Camel Fair is literally a colorful, cultural extravaganza displaying the best of Rajasthan culture, crafts, cuisine, and merriment with great panache. There are camel safaris and camel competitions, camel catwalks, folk songs and dances, delectable cuisine and bonfires, stupendous shopping opportunities in crafts, jewellery, and fabrics; one can say a non-stop carnival for ten days.