Fatehpur Sikri | India Tourist Spots | Places to Visit in India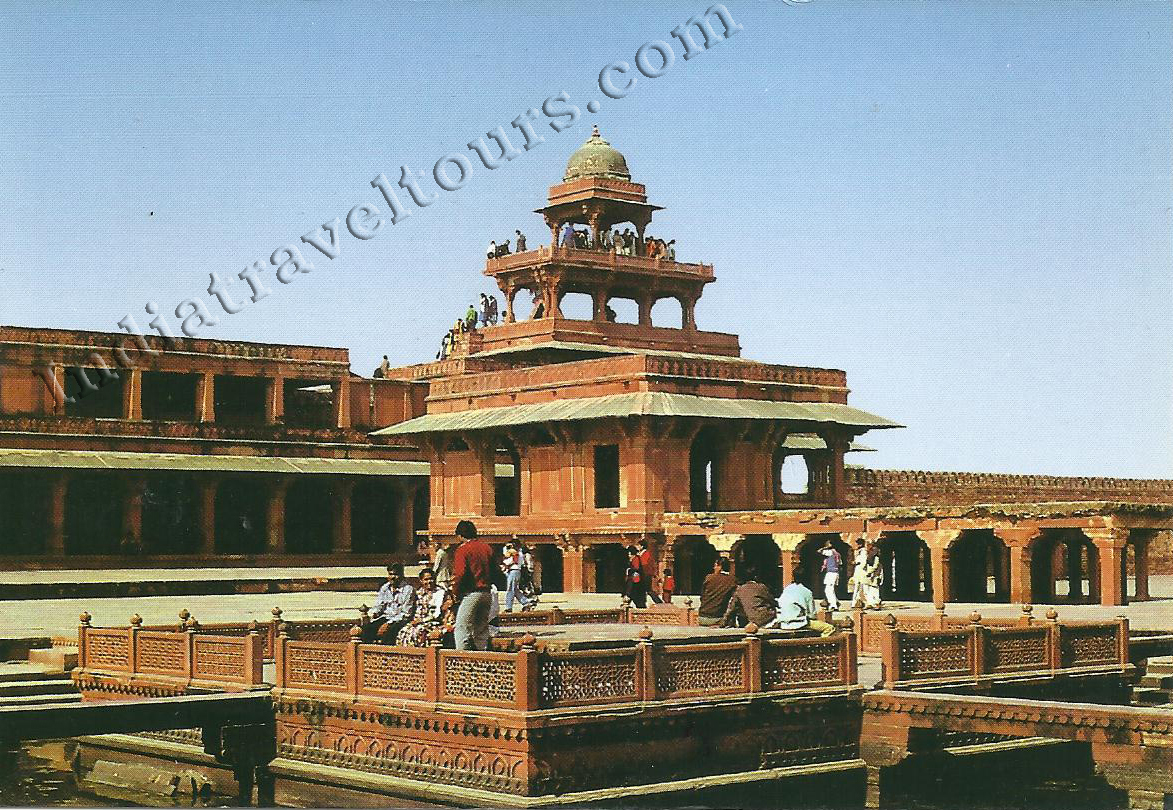 Fatehpur Sikri Travel Guide
The Mughal Emperor Akbar was desperate for a son. A prominent Sufi saint Sheikh Salim Chishti gave him solace and predicted that he shall be blessed by a son shortly. When his wish came true, Akbar founded Fatehpur Sikri in deep gratitude in around 1571 AD, while naming his new born son as Salim, adopting the saint name. This son later ruled over the Mughal Empire as Emperor Jahangir. So much so, Akbar shifted his capital from Agra to this place in deep reverence, though it had to be abandoned within 15 years of its founding in view of insufficient availability of water.
The legendryNavaratnas(nine jewels) of Akbar Court once flourished in this proud Mughal capital. It was here that Tansen sang his famousRagaslike Deepak Raga, Megh Malhar, and composedMian ki Todi. It is said that his singing could ignite unlit earthen lamps, and he could effectively invoke the rain god by his Megh Malhar. Likewise, it was here that Birbal excelled in his repartee and entertained the emperor with his quick wit.
Today, however, this abandoned township stands as a ghost town, though well preserved, in mute testimony of its glorious past.
Fatehpur Sikri Location:
Fatehpur Sikri is situated at a distance of 40 kilometers from Agra, in Uttar Pradesh.
Best Time to Visit Fatehpur Sikri:
Because of acute paucity of water, it is not advisable to stay at this place. The visitors may however visit the place as an excursion day trip from Agra. In view of harsh desert-like summer temperatures, it is sensible to visit this place during the winter months from November to March.
Official Timings:
Dawn to dusk.
The forsaken Architecture of Fatehpur Sikri
Fatehpur Sikri is located on a rock-strewn hillock, its dimensions being 3 km x 1 km. The fort is encircled by a 6 km long wall on three sides while the fourth side face da lake during its hey days.All buildings in this township reveal a fusion of diverse regional styles of architecture, as apparently native craftsmen from several regions were employed for this construction.Invariably, the building material used is the locally available red sands tone. The main tourist attractions in Fatehpur Sikri are its four major monuments, display in majestic architecture which is the hallmark of Mughal dynasty.
The important monuments are the Fatehpur Sikri Fort, Buland Darwaza, Tomb of Salim Chishti, and the Panch Mahal.Some other monuments in this township are theJama Masjid,Diwan-i-Aam orthe Hall of Public Audience,and theDiwan-i-Khasorthe Hall of Private Audience. It was in Diwan-i-Khas, that Akbar entertained representatives from various religions and discussed their faiths to explore the possibility of some common ground.Another land mark is the Ibadat Khana (House of Worship),where he gradually developed the contours of anew synergetic faith,Din-e-Ilahi. Besides these, the Birbal House,once inhabited by Akbars favourite Hindu minister is also worth a visit.
Hotels in Fatehpur Sikri:
Because of inadequate water supplies, there are not many hotels in Fatehpur Sikri. As such, a day trip from Agra is worthwhile. However, if you are looking forward to some solitude, the Govardhan Tourist Complex is a nice place. One can also consider a detour to Bharatpurin Rajasthan, 28km away, to seek an audience with the migratory birds at the Bharatpur Bird Sanctuary(better known as Keoladeo Ghana National Park).
Accessing Fatehpur Sikri
Fatehpur Sikri is approx 39 km from Agra. The nearest Airport is at Agra,known as Kheria Airport 40 kms away; the nearest railway station is the Fatehpur Sikri railway station, around one km from the city centre. It is suitably connected to Agra and neighbouring centres by road, where regular State Transport bus services ply, apart from Tourist buses and taxis.