Beach Tourism in India-The West Coast
Over the years, India has been gradually evolving as one of the most sought after tourism destinations due to various factors; one of these factors is the availability of its sun-filled beaches, which are a special draw for continental travelers looking forward to seashore fun and a durable sun-tan.
Indian Beaches offer a breathtaking reprieve from the high-octane city life. They offer an ideal concoction of the enchanting and the tranquil which captivates your being while letting you enjoy to the utmost. India offers some of the most spectacular beaches in the world scattered over its considerable coastline of more than 7,500 km.
Starting from the north-west coast, there are magnificent beaches in Gujarat, Daman and Diu and Maharashtra. However, the most popular beaches are in Goa, on the west coast, which attracts more than 2.5 million visitors every year. Starting from the north-west, we move southwards towards Karnataka, onwards to Kerala, which again has some of the most breathtaking beaches. The Indian Ocean beaches around the Lakshadweep Islands are a class apart.
Each of these beaches has their own special attractions and tempts the travelers accordingly. Some beaches are known for their tranquility, while others provide a feisty and glamorous haven.
Gujarat Beaches: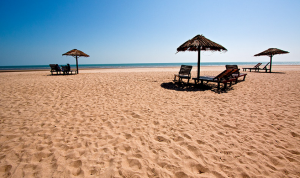 The beaches in Gujarat offer a white sand and blue sea water spectacle. The important ones are Ahmedpur Mandvi, Madhavpur, Gopnath, and Chorwad. Ahmedpur Mandvi is one of the best and most sparkling beaches on the Gujarat coast, ideal for swimming and water sports.
Beaches in Daman and Diu:
Daman and Diu were Portuguese territories which were taken over by India. Devka Beach in Daman is one of the most frequented beaches. Jampore Beach is ideal for swimming and other water sports. It assumes an added attraction during festivals when locals float flickering lights. The more famous beaches in Diu are Nagoa Beach, Kevdi Beach, Vanakbhara Beach, Chakratirth Beach, Gomatimala Beach, and Jallandhar Beach. The largest of Diu beaches, Ghoghla, offers sunbathing, surfing, swimming and parasailing.
Goa Beaches: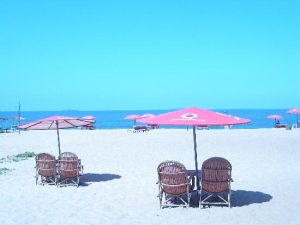 Goa, located on the western coast of India, was also a Portuguese colony, earlier. Its long coastline has 39 beaches; among them Calangute, Baga, Anjuna, Colva, Condolim and Dona Pola Beach deserves a special mention. Calangute Beach offers tropical greenery, besides, water sports like scuba diving, snorkeling, water-skiing, and parasailing. Anjuna Beach is frequented more by honeymooners or international travelers. It is also ideal for water sports. The local weekly market is popular among tourists for a range of bargain items like local handicrafts and trinkets. The local youth love this beach for their celebrations. Colva Beach offers a peaceful retreat, while the Dona Paula Beach maintains its romance with the tides.
Maharashtra:
Popular and exotic beaches of Maharashtra are the Juhu, Tarkarli, Murud, Ganapatipule, Janjira and the Bassein beach. Konkan region in Maharashtra has a number of beaches such as Alibag, Dapoli, Diveagar, Kihim, Kashid, and Harihareshwar. Kashid Beach looking at the Arabian Sea is one of the more frequented ones. All these beaches are loved by the visitors for their treasures and beauty. Konkan area cuisines also offer a great attraction for tourists from all around India.
Karnataka: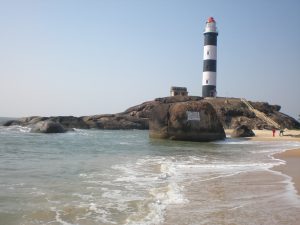 The Karnataka beaches are unique as they appear to be an extension of its lush green hinterland. The more prominent ones are the Ullal beach in Mangalore, Malpe beach, Murudeshwara beach, Devbagh beach, Gokarna beach and Kaup beach. Beaches in Karnataka offer their celebrated holiday attractions, where one can enjoy with popular water sports, as well.
Kerala:
Beaches of Kerala are without doubt the best among the Beaches in India. The most important ones are the Kovalam beach, Varkala beach, Poovar beach and Light house beach. These beaches are well-known for their allure and serenity, but are also frequented for their delectable cuisine. The beaches and amazing backwaters of Kerala offer perfect solitude for the honeymoon couples to enjoy their bliss.
Lakshadweep Beaches:
The beaches in Lakshadweep enchant you with their scintillating blue waters, soothing breeze, gently swaying palms and relaxing sunshine. Added to this natural bounty are the adventure sports like sailing, snorkeling, deep sea fishing and diving, which add zest to the life of the visitors on vacation. The verdant greenery of Lakshadweep with its incredible marine life and fantastic coral reefs captivate tourists on these enchanting islands. Lakshadweep enjoys the distinction of having some genuine coral islands. The local sea has turquoise shaded waters which make it a fantasy of a destination. It remarkably sports almost all shades of blue, green, and white on its beaches. Agatti Island is located on a coral atoll in Lakshadweep, India.