Posts tagged
Day
Do you have one extra day available in Delhi. There are many places you can travel with reasonable distance. One of them is Taj Mahal. Many options available to access to Agra, Taj Mahal & you can choose best one depending upon your interest. Here we discuss available alternatives for Day trip to Taj Mahal from Delhi. Advance booking always save time & less stressful .
1. Delhi to Taj Mahal by train: Travelling to Taj Mahal from Delhi is quick & less hectic. Best speed train available is Shatabdi Express, takes less than two hours. Second best train is Taj Express takes almost three hours. One can book the tickets via Informative Travels or directly through Indian Railways. While travelling there is only one stoppage (Mathura) between Delhi to Agra Cantt. station. Once you reach Agra station, you have option to do sightseeing by car & by coach. On return Shatabadi Express leaves at 2030hrs and arrive Delhi at 2230hrs. Taj Express starts Agra by 1900hrs & arrive Delhi at 2200hrs.  For booking this trip – visit here
Pros: More time for sightseeing & less hectic.
Cons: Longer day, early start.
2. Delhi to Taj Mahal by car: Travelling by car with chauffeur is next available alternative. Route is direct through highway no 2. One way would cost you four and half hours. It can be longer if traffic gets worsen. For booking this trip – visit here
Pros: Require more time for intercity travel.
Cons: Flexible.
3. New Delhi to Taj Mahal by bus: Likewise car bus is also an option. Many tour operator running service from Delhi. Almost all include pickup & drop off services. Bus also takes around four and half hours depending upon the traffic.
Pros: Require more time for intercity travel.
Cons: Flexible.
4. Delhi to Taj Mahal by flight: There is no flight available for Agra. Kingfisher airlines operates only in peak season time. In a way, chance of getting flight to Taj Mahal is remote. But group of people can hire chartered plane for Agra.
Pros: Quick.
Cons: Early start & check-in formalities at airport.
Taj Mahal the ornament of the India
India is known for its heritage, all the monuments in india shows the cultural inheritance and tradition of the country. This India culture attracts tourist most. Taj Mahal; seven wonder of world is an ornament of the India. Not only Indian tourists but also foreign tourists attract to see this monument. Taj Mahal is in Agra, located in the north Indian state Uttar Pradesh. City is placed on the bank of river Yamuna. It is 200 KM from Delhi, capital city of India. City has three main world heritage sites Taj Mahal, Agra Fort and Fatehpur Sikri.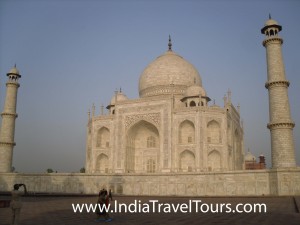 Getting to the city of Taj Mahal is now easy because it is main attraction of tourist. By air you will get flight to Agra (only in season, from October till March) from Delhi. It will take 30-40 minutes to reach to Agra from Delhi. This is the very less time consuming and very comfortable way to get there. While you can have another very affordable choice to get there is by Train. Train from Delhi has good frequency; usually it will take three hours to reach at the railway station in Agra. Apart from these trains some less time taking trains like shatabdi available, which takes less than 2 hours. Train Tickets can be booked online through Indian railways. Also incase you have limited time, many agents offer all inclusive package deals.
There is one more very convenient as well as reasonable way to get there is by road. There is good connectivity to Agra from Delhi and Jaipur. It will take 3 & half hours from Delhi and 6 hours from Jaipur to reach there. Booking a car on rent for one day is also a good option to get at Agra. Hiring a taxi for a day trip will be much beneficial because it will take less time comparatively to bus and gives comfortable as well as worth traveling. Another advantage of hiring taxi is you can cover all the other attractions of city in a very convenient way.