Posts tagged
train
There are two good trains available that could be useful especially for tourists. One of them is Shatabdi Express and the other one is Taj Express. Shatabdi is much more comfortable than the Taj Express. Entire train (Shatabdi Express) is air-conditioned. Two type of seats are there in the train, air-conditioned chair car and 1st class executive. Photo of the both the classes available here below:
The second option before tourist is Taj Express. While this train is not as fast and as good as the Shatabdi one. But still air-conditioned chair car seats are quite fine.
Photo of the train is available here
More info.
Shatabdi Express – Delhi to Agra: A/c chair car – Rs. 455/each | A/c 1st class – Rs. 900/each
Timings – Depart: 0600hrs, Arrival Agra: 0755hrs
Station: New Delhi in Delhi, Agra Cantt in Agra
Taj Express – Delhi to Agra: A/c char car – Rs. 300/each  | Ordinary class – Rs. 120/each
Timings – Depart: 0700hrs, Arrival Agra: 1000hrs
Stations: Nizamuddin in Delhi, Agra Cantt. in Agra
Traveller could  online book tickets through Indian Railways or IRCTC website using net banking or credit card.
Website Address – http://www.indianrail.gov.in/ or https://www.irctc.co.in/
Above are the best trains but if two doesn't solve your purpose, here are some more train to Agra from Delhi:
Hirakund Express – 0810/1145 Hours
Samta Express – 0840/1130 Hours
Mngla Express – 0920/1220 Hours
Goa Express – 1505/1745 Hours
AP Express – 1730/2037 Hours
G T Express – 1840/2145 Hours
Bhopal Express – 2100/2335 Hours
Taj Mahal the ornament of the India
India is known for its heritage, all the monuments in india shows the cultural inheritance and tradition of the country. This India culture attracts tourist most. Taj Mahal; seven wonder of world is an ornament of the India. Not only Indian tourists but also foreign tourists attract to see this monument. Taj Mahal is in Agra, located in the north Indian state Uttar Pradesh. City is placed on the bank of river Yamuna. It is 200 KM from Delhi, capital city of India. City has three main world heritage sites Taj Mahal, Agra Fort and Fatehpur Sikri.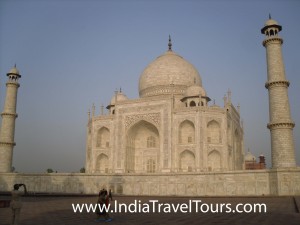 Getting to the city of Taj Mahal is now easy because it is main attraction of tourist. By air you will get flight to Agra (only in season, from October till March) from Delhi. It will take 30-40 minutes to reach to Agra from Delhi. This is the very less time consuming and very comfortable way to get there. While you can have another very affordable choice to get there is by Train. Train from Delhi has good frequency; usually it will take three hours to reach at the railway station in Agra. Apart from these trains some less time taking trains like shatabdi available, which takes less than 2 hours. Train Tickets can be booked online through Indian railways. Also incase you have limited time, many agents offer all inclusive package deals.
There is one more very convenient as well as reasonable way to get there is by road. There is good connectivity to Agra from Delhi and Jaipur. It will take 3 & half hours from Delhi and 6 hours from Jaipur to reach there. Booking a car on rent for one day is also a good option to get at Agra. Hiring a taxi for a day trip will be much beneficial because it will take less time comparatively to bus and gives comfortable as well as worth traveling. Another advantage of hiring taxi is you can cover all the other attractions of city in a very convenient way.