admin
This user hasn't shared any profile information
Home page: http://indiatraveltours.com/blog/
Posts by admin
There are two good trains available that could be useful especially for tourists. One of them is Shatabdi Express and the other one is Taj Express. Shatabdi is much more comfortable than the Taj Express. Entire train (Shatabdi Express) is air-conditioned. Two type of seats are there in the train, air-conditioned chair car and 1st class executive. Photo of the both the classes available here below:
The second option before tourist is Taj Express. While this train is not as fast and as good as the Shatabdi one. But still air-conditioned chair car seats are quite fine.
Photo of the train is available here
More info.
Shatabdi Express – Delhi to Agra: A/c chair car – Rs. 455/each | A/c 1st class – Rs. 900/each
Timings – Depart: 0600hrs, Arrival Agra: 0755hrs
Station: New Delhi in Delhi, Agra Cantt in Agra
Taj Express – Delhi to Agra: A/c char car – Rs. 300/each  | Ordinary class – Rs. 120/each
Timings – Depart: 0700hrs, Arrival Agra: 1000hrs
Stations: Nizamuddin in Delhi, Agra Cantt. in Agra
Traveller could  online book tickets through Indian Railways or IRCTC website using net banking or credit card.
Website Address – http://www.indianrail.gov.in/ or https://www.irctc.co.in/
Above are the best trains but if two doesn't solve your purpose, here are some more train to Agra from Delhi:
Hirakund Express – 0810/1145 Hours
Samta Express – 0840/1130 Hours
Mngla Express – 0920/1220 Hours
Goa Express – 1505/1745 Hours
AP Express – 1730/2037 Hours
G T Express – 1840/2145 Hours
Bhopal Express – 2100/2335 Hours
As per common knowledge, construction of Taj Mahal was taken up by Shah Jehan, the 5th Mughal Emperor of India, as a fond memorial to his beloved 3rd wife Mumtaz Mahal (Beloved Jewel of the Palace) and was completed by 1648 AD. However, her death had been sudden, as she had expired unexpectedly during her fourteenth childbearing and thus it was a shattering blow to the doting husband, who was not even at the bedside of his wife during her last days.
In view of these circumstances, preserving the memory of his beloved wife in a manner befitting her beauty became his sole obsession. This passion, combined with Shah Jehan s zest for building excellence, gradually gave way to an evolutionary process, finally culminating in this masterpiece of Mughal Architecture. However, the design and concept of Taj Mahal apparently was not a result of any flash of creativity, but grew over time during interaction with various advisers, experts, engineers, architects, stone carvers and various other craftsmen.
Though there are not many indigenous historical resources, but details about various people associated with this gigantic project have come down through scattered Persian sources. These information sources inform that Ismail Khan, an expert on domes, came all the way from Turkey. Qazim Khan came from Lahore to mould the solid gold finial for the dome. A local lapidary Chiranjilal was requisitioned from Delhi as the chief sculptor, while Amanat Khan came from Shiraz to work as chief calligrapher. Other specialized craftsmen were recruited from faraway Bukhara, Syria, South India and Baluchistan etc. In total, there was an expert council of thirty seven experts which functioned as the creative core, which was entrusted to together supervise a gigantic force of twenty thousand labor recruited locally, besides, a contingent of one thousand elephants, apart from countless bullock carts, mules, donkeys and other supporting men and animals.
Just as with the manpower, the construction material was mobilized from diverse sources. Major quantities of red sandstone were quarried from the surrounding region, while white marble was resourced from Makrana, near Jaipur. Nephrite Jade and Crystal came from Chinese Turkestan, Turquoise from Tibet, Yellow Amber from Burma, Lapis lazuli from northeast Afghanistan, Chrysolite from Egypt, Coral and Mother-of-pearl from Indian Ocean, while forty three varieties of precious gems like Topaz, Onyx, Garnet, Diamond, Sapphire and Bloodstone etc. were sourced from within India from sites as diverse as Himalayan to Golconda.
As per Islamic practice, the first constructions were the tomb proper and two adjoining mosques. They required consummate skill, as Islamic traditions prohibit any alterations once the tomb has been completed. This core was later supported by the four minarets, the gateway and other auxiliary buildings.
Source: http://www.indiatraveltours.com/agra%20day%20trip.htm
Summary
Taj tour in India is not a surprising term for tourists but many visitors closely miss out the great attractions that may make Taj visit a memorable experience by adding extra value of surprising entertainment and spirituality. This post is intended to make your Taj visits more meaningful and optimized.
There would hardly be anyone with interest in North India tourism, who is unfamiliar with Tajmahal at Agra but there are many, who take it just a gem like monument made of quality white marble. In this post, I am going to make out some interesting points that will make the sense of Tajmahal tours more exciting and encouraging.
Tourists usually see two identical buildings on each side of Taj but the focus remains only upon the beauty of Taj, and it is but natural for anyone. These two similar looking side buildings have great importance for those who have faith in almighty. Made of quality red sandstone, both of these are mosques. The mosque at left side of Taj has opening towards the west; it is a good place to take blessings of Allaha while on Tamahal tour. It sanctifies Taj as well as faces Mecca. The mosque on other side is not used for prayer; it is known as Jawab.
Many of one day Agra tour package buyers miss a grant event very closely. Taj Mahotsav or Taj festival is an annual event that is organized at grand scale with special focus to attract international tourists. This gala event, usually organized in February, brings unique international recognization for Agra. During this period, tourists Indian and international both are greeted with special treats like concession in entry fees, free rides and special entertainment shows etc.
Numbers of North India tour operators offer one day Taj tour by luxury cars, vans, buses or train. Taking on a car tour is best option for the tourists in group of 2 to 4. If the group has 8-12 members, van tours are good with car like comfort. Normally, car and van travel from Delhi to Agra takes almost equal time; but bus tour is economy mode of Agra tourism. It is a better choice for 2 days Agra-Mathura-Vrindavan tour.
When we say Taj Mahal Tours everyone thinks a visit to white marble building. But you should know City of Taj Mahal (Agra) itself has many marvelous places which could enhance your travel to Taj Mahal.
Nearest tourist sopt to Taj Mahal is massive fort known as Agra Fort. There are so many palaces inside this fort that one could easily make out the lifestyle of Mughal Kings used to be. Stunning view of Taj Mahal from one of the palace is must watch place.
The other tourist spots are Aram Bagh, Itma-ud-dulah (known as mini TajMahal) , Chini ka Makbra and Sikendra (tomb of Akbar top most famous king of Mughal dynasty).
Apart from Taj Mahal other cities nearby and related to Taj Mahal Tours are Fatehpur Sikri and Bhartpur (Bire Sancutary) is surely a part of Taj Mahal Visit. Likewise if you go little further, Jaipur is the part of this tour.
Orchha, Khajuraho, Varanasi and Jhansi cann't be seprated with Taj Tours. I rarely find tourist who visit these places, but not Taj Mahal. So, ultimately tour is amalgam of all these tourist cities.
Now, the price concern for tourists is how to complete this trip, means where to start and where to end. Surely, it would depend upon your flight itinerary. Incase you land in captial City New Delhi, you can visit Agra Orchha, Khajuraho, Varanasi and back Delhi. Ideal days for the trip is Nine to Ten. But if you arrive Mumbai just start the trip in reverse order
Also, when you plan to Visit Taj Mahal with Rajasthan you have so many options open. But I suggest that first visit Taj Mahal because you are almost fresh on your first day of arrival. Go first Taj Mahal from Delhi and then Jaipur, Pushkar, Jodhpur and Udaipur etc.,
At last a well exercised tour program will provide you opportunity of maximum exposure of the hidden tourism wealth near Taj Mahal.
Do you have one extra day available in Delhi. There are many places you can travel with reasonable distance. One of them is Taj Mahal. Many options available to access to Agra, Taj Mahal & you can choose best one depending upon your interest. Here we discuss available alternatives for Day trip to Taj Mahal from Delhi. Advance booking always save time & less stressful .
1. Delhi to Taj Mahal by train: Travelling to Taj Mahal from Delhi is quick & less hectic. Best speed train available is Shatabdi Express, takes less than two hours. Second best train is Taj Express takes almost three hours. One can book the tickets via Informative Travels or directly through Indian Railways. While travelling there is only one stoppage (Mathura) between Delhi to Agra Cantt. station. Once you reach Agra station, you have option to do sightseeing by car & by coach. On return Shatabadi Express leaves at 2030hrs and arrive Delhi at 2230hrs. Taj Express starts Agra by 1900hrs & arrive Delhi at 2200hrs.  For booking this trip – visit here
Pros: More time for sightseeing & less hectic.
Cons: Longer day, early start.
2. Delhi to Taj Mahal by car: Travelling by car with chauffeur is next available alternative. Route is direct through highway no 2. One way would cost you four and half hours. It can be longer if traffic gets worsen. For booking this trip – visit here
Pros: Require more time for intercity travel.
Cons: Flexible.
3. New Delhi to Taj Mahal by bus: Likewise car bus is also an option. Many tour operator running service from Delhi. Almost all include pickup & drop off services. Bus also takes around four and half hours depending upon the traffic.
Pros: Require more time for intercity travel.
Cons: Flexible.
4. Delhi to Taj Mahal by flight: There is no flight available for Agra. Kingfisher airlines operates only in peak season time. In a way, chance of getting flight to Taj Mahal is remote. But group of people can hire chartered plane for Agra.
Pros: Quick.
Cons: Early start & check-in formalities at airport.
Taj Mahal the ornament of the India
India is known for its heritage, all the monuments in india shows the cultural inheritance and tradition of the country. This India culture attracts tourist most. Taj Mahal; seven wonder of world is an ornament of the India. Not only Indian tourists but also foreign tourists attract to see this monument. Taj Mahal is in Agra, located in the north Indian state Uttar Pradesh. City is placed on the bank of river Yamuna. It is 200 KM from Delhi, capital city of India. City has three main world heritage sites Taj Mahal, Agra Fort and Fatehpur Sikri.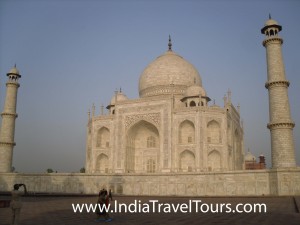 Getting to the city of Taj Mahal is now easy because it is main attraction of tourist. By air you will get flight to Agra (only in season, from October till March) from Delhi. It will take 30-40 minutes to reach to Agra from Delhi. This is the very less time consuming and very comfortable way to get there. While you can have another very affordable choice to get there is by Train. Train from Delhi has good frequency; usually it will take three hours to reach at the railway station in Agra. Apart from these trains some less time taking trains like shatabdi available, which takes less than 2 hours. Train Tickets can be booked online through Indian railways. Also incase you have limited time, many agents offer all inclusive package deals.
There is one more very convenient as well as reasonable way to get there is by road. There is good connectivity to Agra from Delhi and Jaipur. It will take 3 & half hours from Delhi and 6 hours from Jaipur to reach there. Booking a car on rent for one day is also a good option to get at Agra. Hiring a taxi for a day trip will be much beneficial because it will take less time comparatively to bus and gives comfortable as well as worth traveling. Another advantage of hiring taxi is you can cover all the other attractions of city in a very convenient way.
Taj Mahal is expression of supreme beauty build in white marble under Mughals. Complete architecture of the building of Taj is very unique but symmetry in each corner makes it incredulous. The main part of Taj is the tomb; on the four corners of the tomb four minarets are placed. The graves are at the lower side in the main chamber houses. The cylindrical shaped dome of the Taj is a brilliant feature of the architecture.
Taj Mahal gardens are the wonderful element of the monument. Surrounding of the Taj Mahal has pathway that divided gardens in four quarters. A marble water tank called Hawd al-Kawtharlay from the gateway to tomb, where get the reflection of mausoleum. These four green gardens in complex of Taj put more liveliness and blue sky gives a perfect background to the incredible monument.
The complex is surrounded by three walls of red stone. There are some other mausoleums which are of other wives of Shah Jahan. At the end of the complex there are two red stone buildings, which are exactly similar. One is mosque and other is called Jawab referred as guest house.
There is a great art work in the monument that adds more charm in the beauty. Internal part of the Taj Mahal has complete traditional touch in the work of building. Internal side of the tomb is of octagon shape structure. Inside octagon marble walls has Jali work, it is just unique & fine artwork form. All the work on marble walls has flower and fruit designs. Decoration of the monument shows the different art work on the marble and red stone. Carving, painting, pietra dura and lapidary of precious and semiprecious gemstones are all these work art form used in the decoration of the amazing beauty of Taj.
A county which has lot of diversity but the harmony in their heartyou can see only in India. Tours and travel in India shows the different cultures of the different states in India. Each state has its own exclusive and very graceful culture. Most of the foreigners visit India to explore the diversity in cultures of the country. Due these different cultures in India, makes it as matchless tourism attraction around the world. People of the county treat the tourists as God and shower all the colors of their culture. It will bring flood of tourists to the India.
Indian cuisine is also worldwide famous and another leading attraction of tourist. Indian cuisine work as magnet pulls the food lovers. There is big diversity in Indian cuisine; according to the weather conditions of the states of country test get changed. Indian cuisine is famous for spices which are used in it. Each state will give haunting aroma and yummy flavors, which will fulfill test desire. Indian cuisine will be the hypnotizing experience of the Indian food.
Geographical and weather also has huge diversity in the country. There are so many mountains, valleys, rivers, hills and beaches you can see in India. Dance and music are also the allure of the country. Every state has their own dance and music style and famous as folk dance and music of the state. Apart from Indian culture and cuisine, Tours in India will explore you great variation in language, spirituality, religions, festivals, clothing, sports and sculpture. Indian is famous for its traditional art and craft. Paintings, sculptures and architectures in India are the most fascinatingfeatures of tourism in India. Taj Mahal is of the seven wonders of worlds attracts good numberaround the world.
Agra city is known for its art, culture, and heritage which attract tourists to visit this place. The monuments and structures still existing in Agra is mostly developed by Mughal Kingdom and it had ruled this city for a long duration of time. It is the city of historical monuments and structures.
There are many ways one can reach Agra. i.e by train, car or by flight. we offer spacial Tour to Agra from Delhi on train.Our package starts with a luxurious train from New Delhi to Agra. It gives you an opportunity to experience a leisure journey on high speed train. It is a affordable package that offers you a chance to visit Taj Mahal, Fatehpur Sikri, and Agra Fort. It is air conditioned transportation service that we offer to our clients for Agra tour.
You are requested to leave hotel early in the morning and depart station with our representative by 6 in the morning. A fabulous breakfast will be served up in royal fashion. Our tour is divided into two parts with morning hour tour and evening hour tour. Morning is associated with visit to Fatehpur Sikri, which takes only an hour to reach from Agra and it is 35 km away from Agra.
After visit to Fatehpur Sikri and its awesome art, culture, and heritage, you will get a nice lunch at Taj View hotel in Agra. In afternoon hours, you will get visit to Agra Fort and Taj Mahal. Taj Mahal is most attractive building and it attracts not only the domestic but also foreign tourists. It is among Seven Wonders of the World. There are also shopping markets and malls where you can go and buy gifts and other things which is memorable to your visit to Agra.
In case time permits with Taj Mahal Tour, you will get visit to other places nearby.Akbar Tomb is prime center of attraction to tourists.  This tomb is built with sandstone that has been used to give a wonderful designing to it. It is also a nice greenery surround this tomb. Akbar by himself plans whole site and customized designing with it.
With us, you get a train ticket, breakfast, and lunch with a five star hotel. We also offer you the pick-up and drop off facility along with sight seeing. English guide is also made available all the day briefing you history and interesting stories related to Taj Mahal and other places. It is required to make advance booking with us for tour package to Agra along with correct name and address of hotel where you stay.
admin's RSS Feed